6 early colon cancer signal

early colorectal cancer can have no obvious symptoms, and the condition develops to a certain extent the following symptoms occur: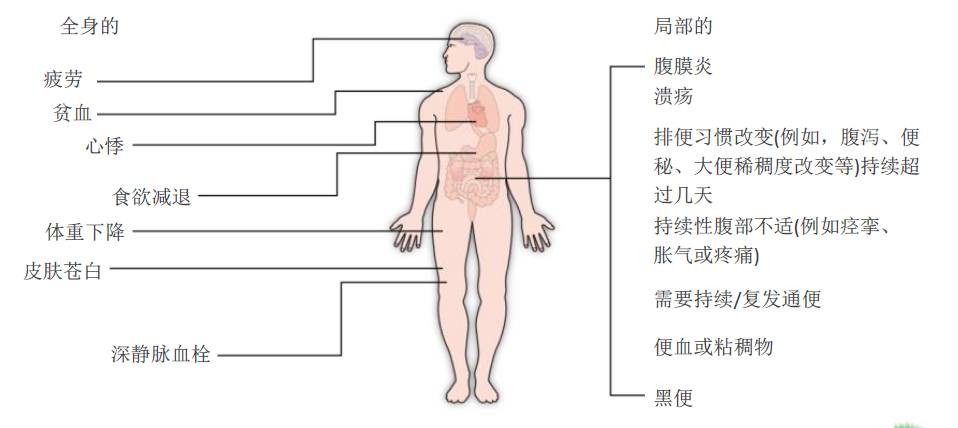 Image Source: the health times

1 defecation habit changes

The right semicolon colon is characterized by early stool, pus and blood, more frequent defecation, alternating diarrhea and constipation, while left half colon cancer is more difficult to defecate and aggravates with the development of the disease.

2 changes in stool characteristics

thinner, bloody stool, mucus stool and so on.

3 gastrointestinal symptoms

bloating, discomfort or dyspepsia. When the right colon cancer, most of the right lower abdominal discomfort or dull pain, very much like chronic appendicitis attack.

4 abdominal masses of

50% patients can find abdominal mass, cancer or omentum, surrounding tissue invade a lump, hard, irregular shape, late colon cancer because of the invasion of cancerous swelling can be fixed.

5 feces with blood or mucus

right colon cancer, the bleeding is small and the colonic peristalsis is fully mixed with feces, causing the naked eye to be seen not easily, but the occult blood test is often positive, while left hemicolonic cancer and mucus are not mixed with the feces, and some of the patients with 1/4 can see the naked eye in the feces. Blood and mucus were detected.

6 anemia and systemic symptoms

such as emaciation, fatigue, low fever.