<! -- m -->http://news.e23.cn/jnnews/2018-03-25/2018032500012.html<! -- m -->
Shun Network - Ji'nan times author: Zhang Jing

Wang uncle in the "canoe", can be carved out of Su Dongpo's boat trip with the wood of the diameter inch The scene in Chibi. Zhang Jixin, who works in a railway unit near the Guanying camp, can also engrave the life situation of a fisherman's family of three sundown nets on a peach kernel with a length of about 4 centimeters long. Every window door on the fishing boat can be easily opened with a toothpick. I do not see that I am dealing with large instruments every day, and I am not at all vague about doing fine work. He said.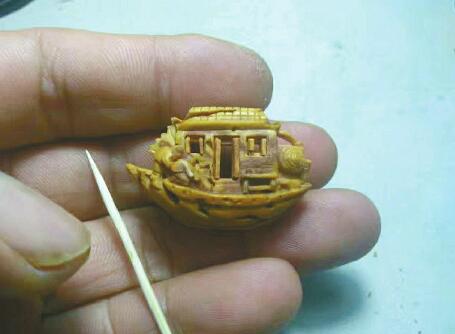 Zhang Jixin's work reporter Zhang Jing photographed
let a family of three into the peach nuclear production completed for half a year
20 noon, taking advantage of a colleague's lunch time, Zhang Jixin sat in front of the exercise table, left hand carefully pinched one An olive core about 2 centimeters long, with a small carving knife in the right hand, carefully carving the Rohan head in the hand. He said that a string of friends had been booked before eighteen years ago, and two would be finished. I have been busy for four months, and it is almost ready.
these things are also simple. I carved a boat with peach kernel. That's my favorite. The whole peach core is about 4 centimeters long and 2 centimeters high. He carved a statue of a fishing boat underneath the peach kernel. The top of the fishing boat is a house for three families to rest. On the front side of the fishing boat, the male master tugged at the fishing net he was laying during the day, and was about to close the net.
the back of the peach kernel, on the side of the table and chair for a family, with a fisherman's hat on the other side of the window, the hostess sitting in front of the stove, the child coming out from the back of the house to see if the dinner is ready. The content is very simple, is a happy life scene. Zhang Jixin said, "don't look at this peach kernel is small, and it takes half a year to complete the production." Doors and windows can be switched off, but they are too small to be opened with toothpicks.
sculpting tools are made by themselves, and then they are not sent to
carving is fine work. Carving tools are also made by themselves. His worktable is very simple. It is a desk working at ordinary times. In order to avoid carvings and delaying the work of the table, he put the tools in a cloth bag.
open his cloth bag and put the small knife in a neat arrangement. Some shank is made of bamboo, some with red wood, these handle is my raw material, sand paper a little bit grind good, feel very smooth, can not be compared to the outside.
colleagues see, always come with me, this is already done third sets, and then can not be sent again, I have to keep it. He said.

with his friend dared not to accept
in the more than 20 years of amateur carvings, with his nuclear boats and other exhibitions, he joined the traditional handicraft group in Ji'nan, knowing more and more people, and many people who want to learn to follow the art of learning, and have been rejected by him. I was a halfway through the house, usually only using spare time to make, is purely personal hobby, where there is an apprentice this saying.
talk about the apprentice. Zhang Jixin picked up the Rohan head that he was just carving. I haven't studied the facial expressions of these characters. How can I teach others. Although in other people's eyes, Zhang Jixin's process of carving is already lifelike, but he is always dissatisfied with himself. I really want to learn, I told them, do not master master, we are friends to exchange, I teach you, you also point to me, you learn from each other. We call a friend with a knife.