<! -- m -->http://society.firefox.huanqiu.com/16/1... REW85.html<! -- m -->


full two child policy implementation, ignited The passion for giving birth to two babies is the test tube baby's "life-saving straw" for older mothers.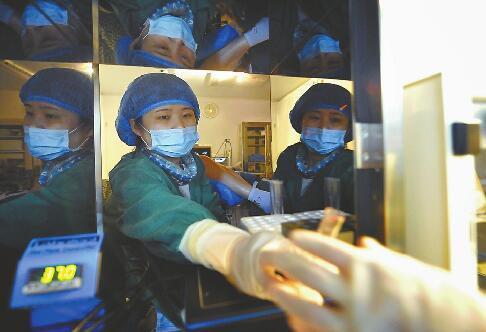 the successful acquisition of embryo freezing

"I had a dream when I was anaesthetized, and I dreamt that I had a child at last." Sun Qing (a pseudonym) is a test tube baby's mother. Now her dream has come true. The experience of long suffering without children has become very weak.

two children have been released for nearly a year, more women are on the "journey" of IVF, and the number of assisted reproductive clinics in hospitals has doubled. Recently, reporters approached these "test tube baby moms" and felt their anxiety and hardships behind them.

her: two time on the test tube baby "journey"

after the test tube baby failed husband and her divorced, after remarried to the hospital gate

Sheng Yan, deputy director of the affiliated reproductive Hospital of Shan Da has developed a few paper towels in the white coat pocket. For more than 20 years, doctors often sobbed. She saw too many tears, so this kind of inquiry often begins with the narration of the strange human condition, and ends with the warm comforts of family members.

sitting in the consulting room of the reproductive hospital, Chen Mei (a pseudonym) looks worried. It is a face that has undergone great vicissitudes. "Doctor, can you give me an idea? This test tube baby must succeed." She cried, though she knew that the doctor was not God. This is the second time that she has tried a test tube baby in a hospital. The first time was 3 years ago, when she was still in the first marriage.

has been married to her first husband for 3 years and has never had children. Chen Mei has exhausted all kinds of folk prescription. Chen Mei and her husband went to the hospital for examination, and found that it was her problem - tubal blockage, in line with the indication of a test tube baby, which became her last hope. Although she could not accept IVF at that time, she and her husband came to Ji'nan to test tube babies. Before entering the test cycle, various examinations, ovulation induction, ovulation, ovulation, in vitro culture and embryo transfer are needed. Two or three months of "toss" let her try hard. The repeated ovulatory needles made her feel sick and headache. Because of the increase of estrogen, she became fat, not to mention the discomfort during the operation. "At that time, according to the process of taking eggs, transplantation, and other processes, every step to the next step, there is always the same group of patients no longer go, which shows that they failed, I feel rather lucky than they are, so if I can be a mother, I am not afraid of any more." Chen Mei recalls.

but the great disappointment is the last step. When the embryo was transplanted to her body, she waited for more than 10 days and could not wait to conceive. "It was really painful and painful. I was disappointed and disappointed." To this day, Chen Mei still looks very miserable at the beginning: "to the last step, but without success......"

can not be a mother, this is already a very cruel thing. A more severe blow followed. Six months later, her husband filed a divorce with her. "He is the only son of the family, and I don't complain about him." After the divorce, Chen Mei found a man who was four or five years older than himself, with a child on each side. Although there was no pressure from her husband, Chen Mei said she still couldn't get along with herself. Now she is 32 years old and still has no children. After making her husband's ideological work, she once again stepped into the hospital gate. She: it was a process to climb the top of the house to jump

never to be accompanied by a husband when she was hospitalized, and to try 3 times to get pregnant but not to be happy

"to be a test tube baby. The body will have various discomfort, and it will be expensive to do it at once. It will probably take more than 30 thousand. More importantly, each of them has great expectations in the long test tube cycle, but the test tube baby, after all, has an unsuccessful rate, and every step is in the fear of failure. " Sheng Yan said, after a failure, three months later, the next test tube baby may be carried out, but if they want to do it again, they will often get entangled with them. But the strong desire to be a mother has made many people moth to catch fire again and again, and there are plenty of women who have done the seven or eight test tube baby's final pregnancy.

"in the traditional concept of many sons and many blessings, women are unable to give birth to children and bring great pressure on them." Sheng Yan also clearly remembered once a patient, "every time she comes to the hospital, she is her own husband, not accompanied by her husband." She did not speak many words. The doctor asked her a reply. Actually, we are most afraid of such patients. Instead, we can cry to the outpatient clinic and make a lot of noise. We are not worried.

that morning, after seeing the illness for the woman, Sheng Yanzheng was about to leave work. Suddenly, a colleague ran into the consulting room and said someone was jumping off the building at the out-patient floor. Sheng Yan rushed out to see the woman standing at the top of the building. "She said, because there was no child, the relationship between husband and wife was not good enough, and she did not want to live. At that time, we were all comforting her to make her confident in her treatment. Finally, she walked down herself. " Sheng Yan recalls.

"finally, she was pregnant after 3 test tube babies. When we told her to go to the hospital, her husband still wasn't there. She didn't look happy either. She felt that she had no passion for life. Sheng Yan said.

before every patient is required to be a test tube baby, Sheng Yan makes them consider it carefully. To accept IVF, it is also necessary to comply with indications such as fallopian tube obstruction and ovulation induction. The threshold is very high. Therefore, among all the infertile people, only one or two of those who test tube babies seek medical advice. The vast majority of patients can be conceived by artificial insemination.