<! -- m -->http://news.sina.com.cn/s/p/2013-12-22/... 8731.shtml<! -- m -->


mother and son on the way to study. Reporter Chen Qixiong took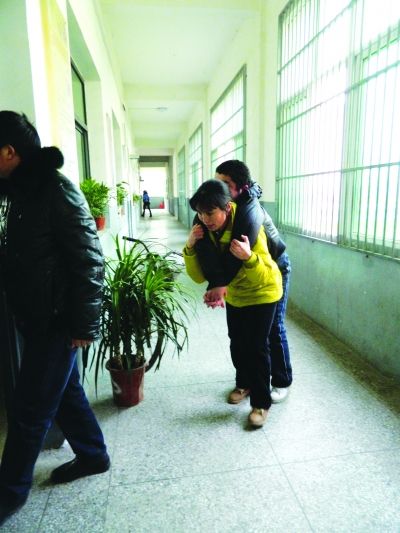 mother to school on the back of Yang Ao every day. Mother goes to the classroom to go to the classroom every day.

special correspondent Chen Qixiong

12 noon on 20 noon, after lunch, Yang Ao leans in the bed of the bedroom, watching the math textbook with relish, at the foot of the bed, stacked a pile of award-winning certificates, the top of the one was sent to the school a few days ago, he won the National Olympic high school Two prize in the competition area of Hubei province.

"Yang Ao, get up and go to school!" At 2 p.m., a thin woman pushed the door in, squatted down, caress Yang Ao, back on his back, and strenuously came to the sophomore (3) classroom and put him in his seat. This little woman is Yang Ao's mother, Liu Suhua.

"Mom, you go slow on the way back!" When Yang Aochen lowered his head and placed him, she gently wiped away the sweat on her forehead.

15 year old Yang Ao, a top sophomore in Chongyang, Xianning, has won the national high school English and chemical competition many times. Behind the results, Yang AO and her mother are hard to pay. Yang Ao was born with "progressive muscular dystrophy", that is, the common known of the disease, 4 years ago he lost the ability to walk, all by his mother back to the classroom every day...

now, little Yang Ao has grown into a "big guy" who is higher than his mother. Back to school, mother Liu Suhua felt more and more hard, but she kept biting her teeth and persisted in her son's school, and did not give up: "I must go to college with him!"

son often wrestling



"

Liu Suhua and her husband, Yang Hongguo, Chongyang County white farmers, son Yang Ao born in 1998. Yang Ao is clever and has a remarkable memory. He can repeat the story he heard once he heard it.

Yang Ao, when he was 6 years old, Liu Suhua and his wife, who were working outside the city, took him to Guangdong migrant primary school. A year later, they found Yang Ao always wrestling up the stairs. When he thought his son was short of calcium, he gave him medicine to supplement calcium. Two people also took his son to Guangzhou children's Hospital for examination. Doctors found that Yang Ao was suffering from "progressive muscular dystrophy", a disease caused by genetic defects. With age, the muscles of the patients gradually atrophy, resulting in slow loss of physical activity in various parts of the body, commonly known as "fever".

doctors say the disease is a worldwide problem. Knowing that his son was suffering from "progressive cold syndrome", Liu Suhua and his wife searched for famous doctors in Guangdong, Jiangsu, Liaoning, Hubei and other places to treat their son.

Liu Suhua said, one year, it was heard that a hospital in Shenyang was trying to treat the disease with stem cell technology. She and her husband immediately took about 100000 yuan of hard work and saved his son to the hospital for treatment. The cost of treatment in the hospital was amazing. 100 thousand spent a month in savings, but the son's condition did not improve at all. Over the past few years, in order to cure their son, they spent three to four thousand yuan in savings and tens of thousands of dollars in debt. Now, her husband is still working as a carpenter in Guangdong to make money. She is working as a temporary worker in a small factory in Chongyang, where her son is studying, and the salary of a month is only 1000 yuan, but she is looking at the son who has taken care of the school.

"Yang Ao is our only child. When he was young, his dream was to become a pilot when he grew up." Liu Suhua's eyes were tearful in the eyes of his son.

the school set up wheelchair path

for Liu Suhua. From Yang to Ao, Yang Ao was helped by countless people. Before high school, he loved reading, but could not afford to buy it because his family was poor. So, every holiday, she sent Yang Ao to the roadside bookstore or supermarket bookcase, let Yang Ao to read the book, bookstore boss and supermarket staff to understand the situation, often the initiative to recommend good books for Yang Ao to see. There are several Bookstore owners in Chongyang county. Yang Ao is very welcome to sit in a wheelchair to his bookstore for free reading. He says that he has been popular with bookstores.

Mr. Pan Meigao, a former teacher of Yang Ao Gao, said that when he learned that Yang Ao's mother decided to come to school, he immediately reported the situation to the school leader. Principal Wu Zhiguang immediately instructed the school logistics department to vacate a dormitory for free as the residence of Yang AO and his mother. And a life subsidy of 1000 yuan per semester.

the school also built a half meter ramp on several steps to facilitate Yang Ao's wheelchair entry and exit.

and Yang Ao's classmates also provided Yang Ao with all his help. Worried about Yang Ao all day sitting in the classroom will feel depressed, a few strong male students, and regularly together force Yang Aolian to carry the chair out of the classroom, let him breathe fresh air or sun.

mother />

"big boy" goes to school

summer 2009, Liu Suhua resigns and brings her son back to his hometown. When his son was going to junior high school in Chongyang County, his son's legs became weak, but he could still walk on crutches. She rented in her son's junior high school and worked part-time while he continued to look after his son. One day, when his son was on his way to school, he accidentally fell to the ground and sprained his legs. After the injury, the son can no longer stand. Liu Suhua bought a wheelchair and a bicycle. Every day, she returns her son from a rented house to a wheelchair or bicycle, and sends her son to the front door of the classroom, and then his son returns to his seat. After her son went to high school, she lived in her son's school and continued to learn from his son.

Liu Suhua said he was small and weighed less than 90 Jin. But over the past 4 years, the weight of the son has been increasing, from more than 60 Jin to nearly 120 Jin. She's getting more and more hard on her son now.

the day before yesterday, the reporter saw that after noon lunch break, Yang Aolian could not turn over. Liu Suhua vigorously moved his son's body, let his son turn over a body, then hold his son in both hands, let his son sit up. Then Liu Suhua skillfully put his trousers and shoes on his son, and went to the bathroom with his son on his back. Looking at it early, Liu Suhua put his son on the body building device and let his son exercise for a few minutes. Because the doctor has said that his son usually exercise more, can ease the disease. With the progress of science and technology, doctors will find ways to cure this disease.

a few minutes later, Liu Suhua took his son out, put his son on the back seat of the bicycle, and pushed his son to the classroom. After a downhill and uphill road, Liu Suhua was very careful. On the downhill, she clenched her bicycle brake handle, for fear that she would hurry down and get her son off the train. On the uphill slope, Liu Suhua pushed his bicycle up and ran up to the top of the slope with inertia. Next, Liu Suhua stopped his bicycle in the aisle in front of the classroom, then took up his son and sent his son to the seat of the classroom. After all this, Liu Suhua's face was red with sweat and sweat from his forehead. After saying goodbye to his son, Liu Suhua rode on his bicycle and hurried to a small factory near the school to do odd jobs.

Yang Ao said, "my mother has done too much for me. I don't know how to repay her!"

everyone called him "little Hocking"

Chongyang one middle school 2 (3) class, Yang Ao's head teacher, Venus teacher, said Yang Ao is a good and cheerful, good student. Chongyang No. 1 is the best high school in Chongyang county. Yang Ao has won the first prize in the whole grade, and has won the three prize for the National English competition, and the National Chemical Olympic tournament in Hubei province two awards... If Yang Ao can keep the current learning momentum, when it comes to the college entrance examination, as long as he does not give full play to his disorder, the 985 colleges and universities should be sure to be more stable or even possible to get Tsinghua or Peking University.

mathematics teacher Jiang Xia said Yang Ao is very confident and is good at summarizing the lessons learned from success and failure. During the first phase of this semester's examination, Yang Ao, who was the first grade in the whole year, fell to the fourth place. She was worried that Yang Ao would be depressed and went to talk with Yang Ao. At this time, when other students went out to relax, Yang Ao stayed in the classroom alone, carefully analyzed the reasons for his bad test, and carefully missed the vacancy. Then Yang Ao confidently assert that he is confident that he will return to the first place in the next phase of the examination. Indeed, in the second phase of last week's examination, Yang Ao took the first place in the first grade.
>! -- m -->http://d0.sina.com.cn/pfpghc/4b328e2f8e... 96e80a.jpg<! -- m -->

Huang Heng, Huang Jinhui, Wu Jinbiao are classmates of Yang Ao. They said, we all called Yang Ao "little Hocking", he was willing to help others, students will not be able to do difficult problems, as long as we ask Yang Ao, he will be patient. Yang Ao likes to take part in group activities and enjoy his classmates. Every time the school sports meet, Yang Ao can not compete, but he will still come to the playground as a cheerleader in a wheelchair and cheer on the students.

the strong mother and son of

will comment on "Hubei good man"

Chongyang 1 security department staff Li Guangliang said that Yang Ao's story has touched countless students and parents. He often teaches those who are disobedient and study hard to say, "do you have good hands and good feet and can't catch up with Yang Ao, who can't keep up the way?"

teach the teacher of Yang Ao, and love the deeds of Yang Ao to the depressed and self - abandonment students: "you look at people Yang Ao, how optimistic, how sunny, and how confident?"

the staff of the Propaganda Department of the Chongyang county Party committee said that Yang Ao's mother's interest in caring for her son was very touching. Yang Ao's spirit of fighting against illness is worth learning from others. The county intends to recommend Yang AO and his mother to participate in "Hubei good people".