<! -- m -->http://society.firefox.huanqiu.com/16/0... H7Q6G.html<! -- m -->


Liu Holland, Wenzhou "the most beautiful" The family "title picture is provided by Liu Helan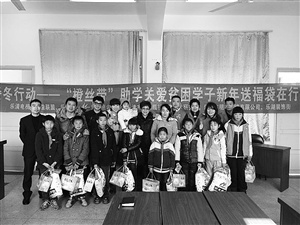 Liu Holland participated in public welfare

" today's family meeting, we discuss how that public activity next week is divided. " In Wenzhou, four families of Liu Helan have to hold family meetings every month. The theme of the conference is how to carry out public welfare matters. This is not a temporary meeting. This kind of form, such a theme, has lasted for 30 years by their family. The family meeting that just ended in late May was chaired by Liu Helan's husband Liu Xiaoping, and his daughter Liu Binqing took the minutes.

over the years, the total amount of donations from the Liu Helan family has reached about 6000000 yuan. It has been funded by more than 50 thousand people, giving away more than 30 thousand pairs of glasses to the poor and suffering people of all walks of life. Recently, their family has been selected as the "five best families in the country".

reporter Xie Guolin

for her husband and her only one condition: support themselves to do public welfare

6 on the morning of 3, the reporter in Qingyuan community in Yueqing, Wenzhou, see Liu Helan and her husband Liu Xiaoping. Liu Helan had short hair and a smile on his face. He looked very spiritual.

Liu Helan said that all the good deeds she had done for so many years were brought up by her mother. Mother spent all her life doing good deeds, even when she finally fell ill until she died.

Liu Helan was born in 1961 and has 9 brothers and sisters in the family. She is the last third in the family. "When I was a child, I had a bad condition at home, and many brothers and sisters, sometimes they didn't have enough food. In many cases, the mother cooked rice first and cooked rice into a large pot of porridge. Then all the people in the family could have a bowl of porridge with clear bottom. In that poor age, the beggars were often begged by a man, and the mother would bring beggars into the door and eat their porridge to the beggars. After the beggars were eaten, the mother would find some food for the man to take away from their home, and the mother was always hungry and hungry only by drinking water. These past events have been carved in Liu Helan's heart, and she has gradually developed a good character.

she insisted on doing good things from an early age, when she was suitable for her husband's age. After the introduction of the matchmaker, she knew the present husband Liu Xiaoping. She remembered that when the matchmaker told her about the man's situation at the moment, she only put forward a request that the man should support her for the public service.

Liu Helan said that she still remembers her husband's reply: "good." She said that for this good word, for this promise, her husband supported her for decades, and accompanied her to do good deeds without any complaints.

a family meeting every month, which is about 30 years old

Liu Helan said she has been married to her husband, Liu Xiaoping, and has been holding family meetings at the end of the month since they were married. Summarize what is done this month and plan next month's actions.

now every month's family meeting is hosted by the daughter and records are made.

in the first few days of the family meeting, her husband Liu Xiaoping first opened the mouth, first to review the problems of his recent work, and to treat his family sometimes in bad mood, to explain to his family in time and to allow the family to understand. Furthermore, the work arrangement in June was described, and staff training plan, outdoor activities and store development were done in time. At the meeting,


in each of the family meetings, Liu Helan's plan for the next month is always full, and she puts all her energy on the public service.